Gutter Guard Contractor in Fairfield, Stamford, CT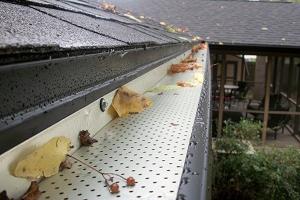 Connecticut Gutter, LLC is an A+ BBB Rated, fully licensed and award winning contractor that excels in gutter guard installation, gutter repair, gutter cleaning. roofing, siding, window and many other types of work.
At Connecticut Gutter, LLC we offer many high quality and affordable gutter guard styles and options that will save you a lot of money in unexpected repair bills over the long haul. Make sure to view our very satisfied customers in your local neighborhood by viewing our before and after pictures and customer reviews below.
Get a FREE estimate today on a gutter guard installation or any other service by clicking the FREE estimate button below.
Improve gutter performance and make gutter cleaning a thing of the past
Gutter guards, which are also known as gutter covers, gutter screens, leaf filters, etc., are designed to prevent leaves, twigs and other debris from accumulating in your gutters and impeding water flow. At Connecticut Gutter, LLC, we specialize in MicroGuard gutter protection systems featuring micro-perforations to keep debris from sticking to the screen while still allowing water to drain away. We also carry Leaf Relief and Gutter Warrior leafless gutter systems that can be installed on both residential and commercial buildings to eliminate gutter clogs.
When dead leaves, twigs, tree bark and other outdoor debris collect in a gutter channel or downspout, they create a barricade that makes it hard for water to drain through. This means that the water will start to back up and rise, eventually spilling over the gutter lid and creeping up under the roof shingles. With a solid gutter cover over the gutter openings, debris will never get into the gutters.
The benefits of our MicroGuard, Gutter Warrior and Leaf Relief gutter guard systems:
Reduce the presence of clogs caused by dead leaves, twigs, and other outdoor debris
Mesh tops that allow rainwater and melting snow to filter through the debris and safely down the gutter drain
Patented aluminum mesh technology helps drain water effectively and at a rapid rate
Capable of draining up to 29.7" of water per hour
Highly weather resistant
Products
For over 30 years, Englert has been manufacturing industry leading seamless residential gutter systems and accessories. Englert Gutters come with a limited lifetime warranty on all gutter materials and labor, as well as a guarantee the gutters will never clog or we will clean it for free.
MicroGuard Leaf Protection
Englert's MicroGuard gutter screen features the latest in micro-filtration technology, providing superior leaf protection for your gutter system. This gutter protection system features micro-perforations to block debris from sticking to the screen while simultaneously allowing water to drain into the gutter. It also features a raised groove that prevents water from splashing back underneath roof shingles.
Available in three different styles:
Traditional MicroGuard. Attached to the front of the gutter while the back sits on the back bracket, facing down.
Reverse Bend MicroGuard. Attached to the front of the gutter while the back faces up and fits to the drip edge, preventing water from coming off the roof and going behind the gutter.
MicroGuard Flat. Attached to the front of the gutter while the back is flat to fit under the first row of shingles on a roof where the shingles have been cut too short.
MicroGuard is easy to install without causing damage to your roof shingles or violating any roofing material warranties.
Leaf Relief® by PlyGem is the leader in gutter protection, keeping gutters clean year-round with its easy-to-install system.
Leaf Relief Gutter Protection System
Adding Leaf Relief to existing gutters virtually eliminates gutter cleaning and ensures that your system works as it should, protecting you against leaks and damage that can occur to your home when gutters are clogged. Leaf Relief is not only the most effective gutter protection system on the market, it is also the most invisible. Leaf Relief® lays flatand fits snugly on top of your gutter. Leaf Relief's 25 Year Warranty is your peace of mind that it will keep gutters from overflowing due to internal gutter clogging.
Leaf Relief (New Construction)
Use: Gutter cover, keeps gutter free of leaves and debris
Size: Fits 5" or 6" k-style gutter, length 7.5'
Color: N/A
Packaging: 270' per carton, also sold by the pc.
Leaf Relief (Retro Fit Z)
Use: Gutter cover, keeps gutter free of leaves and debris
Size: Fits 5" or 6" k-style gutter, length 10', fits over quick screw hangers
Color: N/A
Packaging: 320' per carton, also sold by the pc.
Leaf Relief (Retro)
Use: Gutter cover, keeps gutter free of leaves and debris
Size: Fits 5" or 6" k-style gutter, length 10'
Color: N/A
Packaging: 320' per carton, also sold by the pc.
Gutter Warrior™ is one of the top gutter protection systems in the industry, providing superior durability and quality materials to keep your gutters clog-free.
Gutter Warrior Gutter Protection System
If you are in the market for a superior gutter guard system, Gutter Warrior is your best choice when it comes to leafless gutters. Ideal for both residential homes and commercial buildings, Gutter Warrior gutter shield systems will protect your gutters from clogs caused by debris such as dead leaves, twigs, pine needles, and tree sap.
The benefits of Gutter Warrior gutter protection:
Made from nominal .019" thick aluminum
Can hold snow and ice loads up to 858 pounds
Can drain up to 29.7" of water per hour
Will keep out leaves and debris and will never overflow
Aluma-Perf patented covers provide excellent drainage while keeping out debris
Upgrade your home with MicroGuard gutter guards today
If you have issues with clogged gutters or gutters that frequently need to be cleaned, MicroGuard gutter guards could be the solution you need. The gutter installation experts at Connecticut Gutter, LLC can inspect your home and recommend the right products for your needs. Instead of having to do the unpleasant task of gutter cleaning or spending the money to have a gutter cleaning company do the work for you, your gutter guards will prevent debris from getting into the gutter channel or downspout and therefore eliminate the need for regular gutter cleaning.
If you're interested in gutter guard installation for your home, call us today at 1-855-230-3242 or contact us online to get started. We offer free estimates on all our work in Stamford, Greenwich, Norwalk, Bridgeport, Fairfield, New Haven, Darien, Ridgefield, New Canaan, Milford and the nearby areas.
Looking for a price? Get a no cost, no obligation free estimate.